It's not always easy to come up with one outfit even when we have time (ahem…I mean like a lot of time). Let's be honest: we've all probably looked like this poor guy at some desperate point in our lives (cringe!)…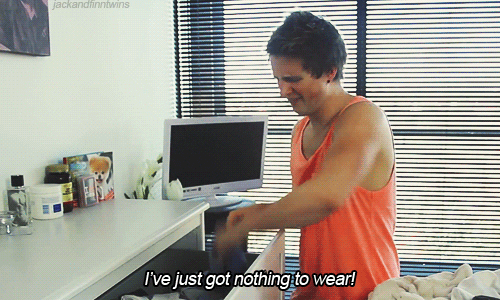 Now imagine the struggle to look good when we don't have any time…as in no. time. at. all. We've all been there. It's not easy. Talk about #firstworldproblems. So that's why '7 Days, 7 Looks' was created: to inspire our wardrobe choices in even the most desperate of times, but also to give a cheeky glimpse into the closets and everyday lives of others who share our pain.
I'm very excited to share this first post of '7 Days, 7 Looks' with you – not only because it's the first one, but also because it's with Emily who I've known for a while now. She's a content writer at online shop Farfetch.com, blogger at The Style Explorer and master of effortlessly cool style. Seriously, she can transform the simplest things into must-have pieces. Proof? Emily made me crave size 9, Steve Jobs look-alike trainers when I never ever thought that this could actually happen. Okay, enough talking – it's now time to let Emily cast a style spell on you guys. Enjoy!
MONDAY
That's basically me in full Zara mode. Seriously, I should not be allowed to shop in there any more – probably 70% of my wardrobe comes from there. But they make such great jeans, look at these bad boys for example, with all their pockets and zips – brilliant!


Coat: Mango; sweater, jeans and hat: Zara; boots: Topshop; backpack: ASOS; necklace: Amanda Wakeley; watch: D&G
TUESDAY
Today I decided to sport layers and layers of All Saints. Got these two pieces from the brand's sample sale last summer, it was so good! Can't wait for the next one. These sneakers were one of my first ever online shopping experiences, involving a crazy amount of research. I just found them so so cool back in high school, with their clip-on ankle strap, satin panels and star-shaped studs.


Jacket: Mango; top and cardigan: All Saints; jeans: Lee, sneakers: Diesel; watch: D&G
WEDNESDAY
I've had this coat for years (like most things in my wardrobe), it's really cool. Other people love it too – they oooh and aaah at it, want to stroke it and even make me take it off so they can try it on! What a find. And the leather trousers are faux as well but look so real – got the best of both worlds here.


Coat and cardigan: ASOS; shirt: Zara; trousers: H&M; boots: H&M; bag: & Other Stories
THURSDAY
Today I'm going with for a laid-back look with my favourite plaid shirt and my trusty black skinny jeans. I'm always about comfort before fashion (yep I said it!).


Waistcoat, jeans and shoes: Zara; shirt: Stradivarius; belt: Miss Sixty; watch: D&G; ring: H&M
FRIDAY
I'm someone who often repeats outfits – if I like something, I'll wear it again and again, like this combo. This denim shirt was a great find at Zara and goes super well with my new boyfriend jeans. There's just something effortlessly cool about a nice double denim look.


Shirt: Zara; jeans: Lee; necklace: Topshop; floral tights: H&M; loafers: Zign
SATURDAY
Today I'm exploring London, so über-comfortable shoes are a must. That's why I reached for my huge running shoes. I'm wearing them with these great jeans I found in Paris seven years ago. Love the ribbed panels! To keep the outfit from going into a super sporty direction I added one of my many Zara shirts. Mission accomplished?

Shirt: Zara; t-Shirt: H&M; jeans: Sicko Nineteen; watch: D&G; trainers: Nike
SUNDAY
Decided to go all feminine today (how elegant) with this super short dress (maybe slightly less elegant). Tweed isn't actually my style but I was happy to wear a dress for once – a nice change to all the trousers I'm wearing 24/7. Plus with my new loafers I'm keeping it cool and comfortable. Actually not really, as I still haven't broken them in properly. Wish me luck with that.


Dress: Vintage; Shirt: Mexx; tights: ASOS; loafers: Zign